Angel Ortiz Fundraiser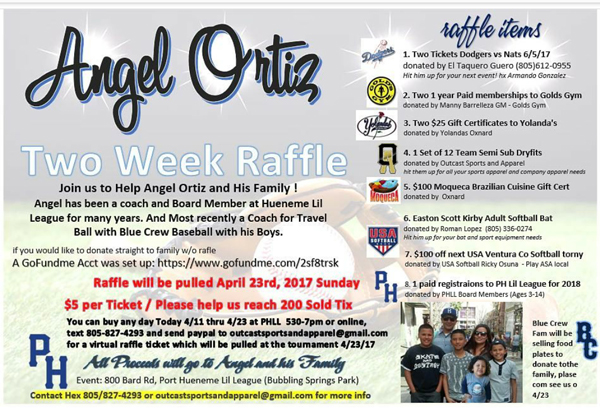 Please help support the Softball tournament for Angel Ortiz family, donations of any kind are welcome for the support of the family. 
On April 8, 2017 our beloved one and only brother Angel Ortiz a father of 4 boys and a wife was tragically shot in the head by two unknown persons. Angel was a loving father, husband, coach and he LOVES his boys! He is still in the hospital fighting for his life. We need your prayers and support. His wife has been by his side at the hospital. We are helping with their four boys. But we need your help! We want to make this time as comfortable as possible for his wife and for boys. Rent, food, and medical bills will start to pile up. Finances will run out, we do not want them to have to worry about these costs.
The tournament is a way to put leagues together to help provide this family through these tough times.  He is currently on life support and there are no high expectations.
There is also a Raffle happening now through the day of the Tournament. Raffle tickets are $5 each. Winners will be pulled April 23rd. Raffle items include Two tickets to see the Dodgers, Two (1) year memberships to Golds Gym, Two $25 Gift Certificates to Yolanda's & More!   
Any donations will go directly to the family, baskets and any other non-monetary donations will be raffled off.
For more info contact Hex 805-827-4293 or outcastsportsandapparel@gmail.com.