Top Rocker Harley-Davidson One Year Anniversary Party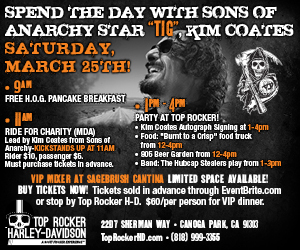 Top Rocker Harley-Davidson One Year Anniversary Party
Mar 25, 2017 / 9:00am - 10:00pm
Top Rocker Harley-Davidson
22107 Sherman Way
Canoga Park, California 91303
You DON'T want to miss this party! There will be a FREE pancake breakfast from our amazing HOG Chapter! There will be a special ride lead by Kim Coates from Sons of Anarchy ($10 rider/$5 passenger). There will be an autographed signing! There will be FOOD from the Burnt to a Crisp food truck! There will be a BEER GARDEN sponsored by the kick ass 805 Beer team! There will be a BAND, the rockin' Hubcap Stealers! There will be hot chicks rubbing down bikes, tattoo contests, t-shirt giveaways, raffles, and more!
The best part about all this is part of the proceeds from the ride to go the MDA to help children get into the summer camp of their dreams!
After our party at Top Rocker, there will be a VIP Mixer with Kim Coates at the Sagebrush Cantina. This is limited to 150 maximum. Tickets for the dinner are $60.
To purchase tickets, click here OR stop by the store to purchase!