California Beer Festival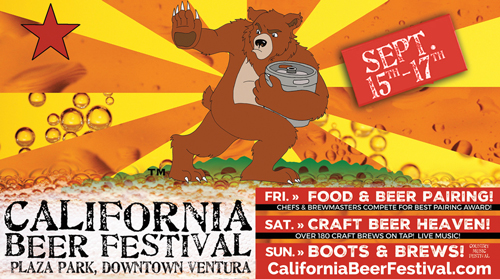 California Beer Festival
The legendary California Beer Festival is coming back to downtown Ventura for 3 EPIC days of craft beer- September 15th, 16th & 17th!  Friday kicks off the craft beer weekend with the food and beer pairing competing! 7 chefs teamed up with 7 brewmasters, competing for BEST food and beer pairing and you're the judge!  
Saturday is Craft Beer Heaven will take over Downtown Ventura with over 130 craft beers on tap, mouth watering food and live music ALL day!
Sunday it's The Boots and Brews County Music Festival with an all star county music lineup! Space is VERY limited, so get your tickets now at www.californiabeerfestival.com. CBF is sponsored by Firestone Walker Brewing Company, The Bloody Cure, Island Brewing, The Pleasure Pantry, Marriott Ventura Beach, Gen Giammano Foundation, Crowne Plaza and the Downtown Ventura Organization. Purchase tickets NOW at CaliforniaBeerFestival.com.